DJ Chef has a radio and club career that spans over 15 years with a long running show on the legendary Kool London Chef pushing a great selection of DNB and Jungle across the airwaves. Many of the scenes key players lock into Chef's weekly show and many artists can credit their first exposure down to Chef pushing their beats. Way back in the day Chef started a project called "The Inside" which was going to be a DVD series that brought us interviews and features with the DNB scenes top players. With the first issue ready to be released and adverts running in magazines the DVD never was released – Until now. Chef has kindly supplied us with the content exclusively for Hardcore Junglism with many hours of unseen footage and outakes we will be slowly adding to the site over the coming months. We caught up with Chef for a chat about the project.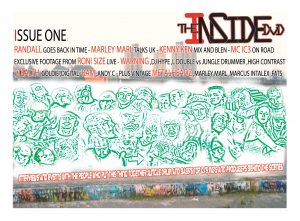 Firstly a big up for the great content Chef its always nice to see lost material and get it out there for the public to see.Can you let us know how come the project never hit the streets back in the day after all the hype was built?
Big ups and firstly thanks for inviting me to do this interview for Hardcore Junglism.
The Inside Dvd was a project that never saw the day of light due to the usual DnB "politricks" back in the day. I did the whole project on my own – I did the interviews, shot the footage, edited it, created then produced the dvd and did all the design work myself, got adverts in Knowledge and on the web. Another DnB collective at the time decided that they were going to do a Drum and bass DVD, they had had interviewers, camera teams and editors, designers and sponsorship etc etc and there was a conflict of interest with artists who said they couldn't do mine because they were doing that one.
At the time I was like there is so much to this whole scene I can't believe that they were trying to shut me down!
So I just put all the tapes and DVD's in a box and left them there for 10 years!
(Big shout out to Jessica who did help me out getting some of those interviews on tape that never saw the day of light!)
What was the ethos behind the project?
The Inside Dvd ideas / Ethos was that |I was going out every week /weekend with lots of different DJ's and Mc's, up and down the UK. I just got hold of a really cool DV cam and was just shooting the nights events talking to all the people involved in the scene. One day it dawned on me that i had footage that the world needed to see, it was about spreading the information and awareness of drum and bass artists, events and music. So I decided to make this DVD and sell it for about £3, remember this is pre Youtube days!
I always call you the yellow pages of the DNB scene as you know everybody was this a key factor in being able to get the artists to do interviews?
I have been quite fortunate to have grown up with a circle of friends who were foundation Dj's/Mc's and producers from the early jungle scene and being introduced to artists every week it was easy to have a good rapport with them. I am a fan of the music and artists first and foremost and i think that comes out when i talk with people.
So yes this was a key part in kick starting the project
How long did it take to get all the footage you had ready for the first DVD?
The first issue of The Inside took about 2 months of shooting every weekend as the concept was to create a Bimonthly DVD. But I had lots of stuff on tape already!
How do you think the scene differs from then (When you shot the footage) and now (Current day)?
The scene has changed in so many ways from back then, there was no dnb monopoly where its said that 4 labels supposedly run the dnb scene.
Today we see Djs and mc's being locked off with some exclusivity crap (the rise of the DNB Agent). To be honest the whole vibe was different, its so complex i would be here all night breaking it down. A major factor that a lot of people will disagree with me is that the music was better with none of this commercial wishy washy bollox that is flooding the charts and using the DNB genre to become pop stars…Don't get me started!
It was quite interesting watching the Kenny Ken interview as bearing in mind that it was filmed over a decade ago he predicted quite a few things in there that came true down the line. At the time of filming did you think much about his predictions about the future?
Kenny Ken's interview was by far one of my favourite's to shoot ever because its from the heart, its totally honest.
Kenny (Nostradamus) Ken's predictions I knew would become true especially the one about Crissy Criss and that he would be an important part of DnB in the future.
How do you think the scene as a whole has developed since filming?
The scene has grown and grown, split off and then reconnected with new blood coming in, different genres of DnB being created it seems that old styles and vibes resurface then go underground.
Right now after all these years we can finally say DNB is a worldwide music genre not just London and Europe.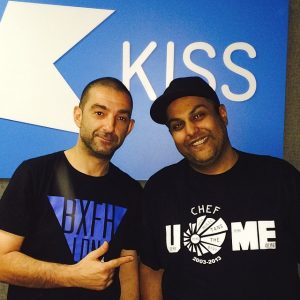 Tell us about some of the footage that is still to come that you have there.
Wow, I have been digging in the tape vault and found stuff I forgot I shot! I will only tell you about a few videos forthcoming: Unseen Footage of the Metalheadz tent at Creamfields, The V-Cycle event in Hammersmith with Roni size and Represent, interviews with IC3 and a whole heap of Jungle DnB Royalty!
You are close friends with the legend that is MC Singing Fats who is featured on one of the videos you have given us. Tell us about the MC Fats album project recently released.
The WEGOTCHA Project was put together by DJ Asides and he asked DJ Bailey and myself to be involved as part of the team.
We sat down and dug through old drives and DATS for vocals and samples from Fats and then thought about what artists would do a good remix of old Fats tunes alongside lots of fresh material.
We eventually collected around 40 plus tracks and then broke it down into Ep's and then a double album.
All this was done to help support Fats as he has not been able to perform at events due to his severe Diabetes which has unfortunately led to Fats having both of his legs amputated below the knee. All the artists have donated the tracks and waived their fees for Fats!
Buy the MC Fats LP Project here:
Part one: CLICK HERE
Part two: CLICK HERE
What's your favourite period of music from the past 25 years of Hardcore through to DNB?
Thats so tough to choose a particular Period over 25 years. I got this mental snapshot of events, music and people from the early Reinforced days in warehouses to the killer Bluenote Metalheadz sessions to the infamous Virus, Renegade Hardware & Ram nights at the End Club Playaz at Fabric. There is just so much to pinpoint I've loved it all!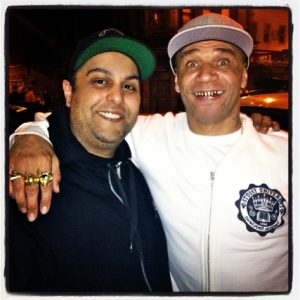 Your weekly radio show (Thursdays 7pm to 9pm on Kool London) picks up listeners from around the world. You have a great forward thinking attitude towards the music and artists you play tell us a bit more about the show and what people can expect to hear if they tune in.
I've always tried to be upfront in what and who I play on the radio and try to play the freshest beats before anyone else gets them on radio , I'm always on the lookout for the next big thing and I can look back and be blessed that I have supported lots of artists on my show at the start of their careers in the scene and have seen them go onto massive things!.
I always pay homage to those who I admire as Dj's & producers that I rate and will always try and draw someone that the public love but have never heard on Kool FM! For those that have never locked in before here is a small list of artists that have passed through the show in my 10 years on Kool.
RAY KEITH-ASIDES-PATIFE-CLEVELAND WATKISS-FATS-MC AD-MC FLUX-IMPACT MC-HEIST-HLZ-EPOC LIVE-SIGMA-CRAGGS AND PARALELL FORCES-JEM ONE-DJ VAPOUR-REDEYES-MOSUS-TARGET-SOUL INTENT-SERUM-PHILL SOURCE DIRECT-STANZA-SILVER-BASHER-SAVAGE REHAB-GIGANTE-SQUAREWAVE & SUHK KNIGHT-HAMILTON-RENE LA VICE-MECHANIZM-DJ MARKY.ETC ETC
You also work as Baileys producer for his weekly show over at Ministry of sound radio, what does that entail each week for you?
When Bailey left 1xtra and he moved over to MOS he then in turn asked me to join him as his producer which means that we organise weekly features and interviews, liaise with MOS to make sure the shows features run and that the social media side of things are looked after as we are 110% live so the interaction with the public is key.
Its fun, Dj Clarky and myself also host a show on MOS as the Identity Sessions, playing lots of old skool beats. The banter and the knowledge is high most of the time until our brains malfunction…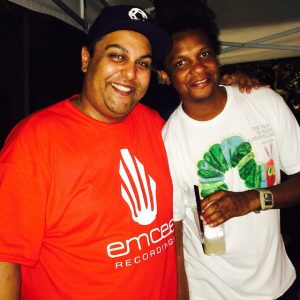 If you could pick 5 all time favourite tracks from Hardcore / DNB what would they be and why.
Only Five!!!! Ok
1.We Are IE – Reel to Reel – This tune stood out in the early years as something very special i think it was the baseline had real dubby feel that drew me in!
2.Here Come The Drums – Doc Scott – This tune made me loose my mind the first time I heard this at Fantazia and just stuck with me!
3.Terminator – Ruffige crew – This one just had all the elements that signalled a change in production techniques!
4.Alantis – LTJ Bukem – The Intro just takes you away and then the Amen just rolls out till the bass drops!
5.(Every tune that Dillinja made)!!! (Had to do it cos Dillinja was my fav producer)
Other wise 1-5 would have been Dillinja
You do tons of work with young children teaching them how to use studio equipment and making beats tell us a bit more about what you do.
I work for the Newham music trust. My department is Music technology and Bands vocalists and Mc's/DJ's
We set up education projects in schools and various locations where young people need access to making music from Hospitals, Young Offenders etc
Check the website: CLICK HERE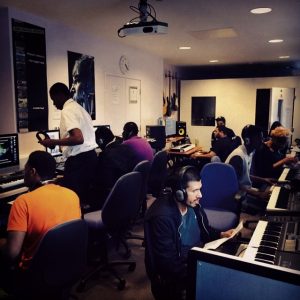 Have any of your past students gone on to bigger things in the music scene?
There are a lot of the young people I have worked with and helped over the 10 years and have gone on to do well in their musical journey from artists like Balistiq who are signed to Sony and have produced for lots of artists. Their latest track is with Kano which has had lots of support from the national radio stations! Grime artists like Dizzle Kid & Badness Lava Unit who have been doing tours with Sika Studios! Jordan King, an RnB Vocalist who got signed to Sony, Dj's like Raze (Rinse) DJ Impact (Chipmunks Tour DJ). I got some fresh talent that I am working with and I predict big things for them, there are so many more and I am proud to have been part of their story!
You seem to never sleep lol along with all your other work do you DJ out a lot? Where can we catch you playing in the future?
I will sleep when I'm dead I suppose so make everyday count… You can catch me at various events around London in the next few months such as Jungle Fever, Kool Sessions, Time Rewind etc
My Radio show is every Thursday 7-9pm UK GMT ON WWW.KOOLLONDON.COM where I can play a range of styles in 2hrs.
Finally what's the best story you can tell us from your years in the DNB scene?
I got so many tales of our years in DnB, many I will take to the grave don't worry I'm not about to expose any one in the scene.. Over the years there has been car crashes, arrests, fights, bouncers getting done in, Hotel room dramas so many stories.
But one story I can tell you was back in 2006 – Dugs, Funky Flirt, Tempa and myself were up Kool fm studios when we got a call saying DTI were at the top of the road looking for our studios to raid.
You have never seen a studio get stripped down top to bottom so quickly! Decks, mixers, speakers amps the whole lot you'd have never knew there was a radio station there 5 mins previously.
We stored everything in another unit and then walked out past the DTI. I can tell you our hearts were pounding that day!! Great times!
Where can people find out more about you ? FB , Insta etc
To find out more about me on the social networks
Twitter: @djchef
Instagram:@djchef2013
Any shouts?
So many shouts to send out to all those who have supported me over the years in helping me enjoy this musical journey . Shout to the Hardcore Junglism crew for always keeping it real. Big shout to my first crew that I went raving and bought records with and mixed all night shout to my next door neighbour Leader 1 who's always been an inspiration to me. Got to big up Marly Marl who introduced me to all of De Underground records crew and helped me find my path in the scene. My DJ/MC partner for many years DJ Bud. Eastman for giving me my break on Kool Fm back in 2004. Shout out to Bailey for bringing me in on Ministry radio!
And to everyone else who's been part of this ride in Jungle and Drum and Bass. To anyone that I didn't shout out, I got love for you all!
Peace love and unity!